The life of a street boy_Philip Mushiba Mung'ao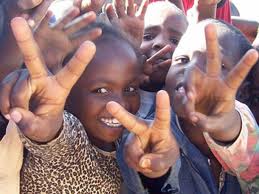 _Africa Teller 2000.
I would not have become a street boy if misfortune had not befallen
my family. By the time I was born, my father had long abandoned our
family and disappeared, never to be seen again. My father, Kamau,
had lived with my mother, my three sisters and four brothers happily
in Madaraka estate, a middle-class estate in Nairobi during his hey
days. He was, then, a messenger with a foreign bank and his salary
those years, was adequate. My family members lacked nothing, they
enjoyed at least three meals a day, had a comfortable house and
dressed fashionably. My mother ran a retail shop near our house.
My brothers and sisters went to a nearby school and were picked and
dropped home by the school bus everyday.
But as fate would have it, my dad was later retrenched in what the
bank said was a restructuring exercise. He was paid all his dues plus
a generous bonus for his many years of service. With all this money
our lifestyle remained the same with the hope that our dad would get
another job soon. Months turned into years and no jobs were forth
coming. As father's finances dwindled my mother's retail shop
slowly turned into empty shelves. My family lost friends and even at
school, my sisters and brothers began to get regular harassment from
the teachers over non-payment of fees. My father became hostile,
first towards my mother, then towards the children.
He became rare at home and spent most of his time indulging in
excessive drinking of local brews. He lost weight and shape, wore
rags and disappeared altogether, leaving my mother alone
with the children.
My mother, Njeri, whose earlier photographs prove that she was a
beauty, became worn out. Hitherto used to being provided for, she
now had to toil to maintain the family despite being heavy with me in
her womb. On the advice of our aunt, she moved to a shack in
Mathare, where she tried to fit in easily, our household goods having
been sold by dad and some impounded by the landlord over nonpayment
of house rent.
My mother tried selling fish, then sukuma wiki (kale) but she lacked
the capital to sustain the business and the family faced starvation and
hunger each passing day. Many are times when our shack got swept
off by the Nairobi river flood waters. The room was always dump,
leaked and hundreds of residents had to share the few filthy pit
latrines nearby. There were countless police raids where we lived in
pursuit of thugs and whenever they entered and left a house,
everything was left in chaos. The two hundred and fifty Kenya
shillings demanded as house rent was not always available and my
mother had to plead with the landlord after being threatened with
eviction many times.
Ngotho, my elder brother, joined the slum peer group and was rarely
seen home. Ciiku my elder sister, got married to a tout in a nearby
slum neighbourhood. It was at this time and in the middle of crisis
that I was born and condemned to a life of poverty, struggle and
hopelessness.
I struggled with my mother's emaciated breasts in the hope of getting
some milk. I fought with diseases attributed to malnourishment and
unhygienic surroundings endlessly, and competed for attention and
food with my siblings each day. My mother resorted to brewing illicit
beer in Mathare valley and when the law enforcement offers became
too hot to handle, she tried illegal hawking but still found herself
being harassed by city council askaris more often than not. At times,
she would spend her meagre earnings bribing policemen to buy her
freedom after being arrested and most of her earnings from hawking
ended up with the city council askaris for the same purpose.
My mother became so desperate, she began to offer her body to any
man for twenty shillings to get money to buy me something to eat.
My brothers and sisters, who at times accompanied my mother to the
city centre on a begging mission as she hawked, soon learnt the
secrets of street life and disappeared, occasionally coming home with
some money for my sickly mother and the malnourished me, Kuria.
My mother's health improved slightly when my brother Ngugi, the
third born, got a casual job in a construction company. He 1oved my
mother so much and made sure he handed over all his earnings to her.
At last, we could eat a meal a day.
By the time I was five, I was already aspiring to join the street
because of stories recounted by my brothers and sisters. But being the
last born, my mother kept me under tight control and even enrolled
me in a nearby school where I stayed for two years. But lack of
books, fees, uniform and hunger made me hate school altogether. I
would help mother to hawk groundnuts before I graduated into
hawking paper bags outside supermarkets. It was at this time that I
was introduced to drugs by my peers and soon headed for the streets
of Nairobi.
I was introduced to street life by my friend Njoroge. Njoroge joined
the streets to escape the wrath of his aunt who took him up after his
parents died in road accident with the promise of educating him. But
as soon as the family land was entrusted to her, she became hostile
and resorted to physically abusing Njoroge, leaving him with several
scars as a result of wild beatings.
For a start, street life was tough, very tough. We slept on pavements
on cartons and newspapers with nothing to cover ourselves during dry
and wet nights. We had to endure the wrath of policemen on patrol
and watchmen, who demanded bribes to let us have some peace on
the pavements. Then there were the mean and cruel members of the
public who always treated us like criminals.
Street boys operated in gangs and I got initiated into the "ninja" gang.
The initiation involved being abandoned by the reliable friends to the
mercy of gang members who induce a fight and only one's strength
assured him of a rank in the gang. It was not for long before my body
was full of scars from injuries received during gang fights and
beatings from the policemen, watchmen and the public.
After a year on the streets, I had become an expert street survivor. I
graduated from begging, using human faeces wrapped in a polythene
bag as a weapon to pick-pocketing and bag snatching. I then became a
"base commander" in charge of an operation area and a squad of
accomplices. My "base" was Wakulima market in the city centre and
the surrounding areas. This was a common shopping centre for
tourists. As a base commander, my duties revolved around coordinating
the trailing of our victims and advising on the appropriate
strategy to apply as circumstances dictated. Our main targets were
tourists. The strategies ranged from simply grabbing an item and
dashing off closely trailed by accomplices so that if it drops, the others
pick and proceed on; one person knocking off the item to a readily
waiting accomplice who picks it and takes off; stripping a lady victim,
who, as she concentrates on covering herself gives us ample time to
grab, especially chains or in a sophisticated manner, snatching an item
just as one crosses the street ahead of an on-coming vehicle.
One memorable afternoon, in the company of Njoroge and two other
friends, we applied the stripping strategy on a lady tourist and I
snatched a golden chain then took off with my accomplices and the
public in hot pursuit. We had trailed the lady right from the Grand
Regency Hotel area. The chase ended at the Globe Cinema roundabout
where, in a desperate bid to cross the road, I was hit by a
Nissan car which threw me off the road, knocking myself against a
lamp-post. The chain fell off and as Njoroge grabbed it to take off, we
had been concerned. We were rounded up; I thank God it was the
policemen as members of the public would easily have lynched us.
The tourist's plea to the policemen to let us go fell on deaf ears and in
spite of my injuries, I was dragged along mercilessly bleeding
profusely to a police land rover and we were driven to a remand home
in lower Kabete.
Life was horrible in the remand home where we were denied basic
facilities like blankets and were kept in the same cells with adult
criminals. The adults continuously coached us how to cheat the
magistrate if taken to court. After nine horrible months of waiting in
the remand home, we were set to be admitted to approved schools
when, one morning, we were called to the office to meet two ladies
whom I later learnt were social workers. They asked us a lot of
questions ranging from schooling, home background, street life and
the best part of it was if we were willing to go back to school. My
colleagues and I agreed just to get out of the remand home then find
our way back into the streets again.
A week after this encounter, we were driven in the company of social
workers to a centre in Kariobangi. I later learnt that this was a drop-in
centre and would be our new home. Miss Anjela, one of the social
workers introduced us to Joshua, our new custodian. We joined other
boys of our age-group in the centre.
The old members of the drop-in were very welcoming, thanks to
Joshua's efforts. Each one of the boys wanted to talk to us and help us.
They told us what went on in the centre. Every boy had his bed and a
box on it. We were provided with these things that evening by Joshua,
who stays in the parish house that also houses the priest- in charge of
St. Martin's Catholic Church. When supper time reached, we were
given very clean plates, a spoon and knife. We were led into the dining
room by Joshua who had been joined by Brother Tom. Joshua spoke
and the group did some signs and said things we could not understand
– the four of us who were new. It was later explained to us to be the
sign of the cross and the prayer before meals.
I liked the food and when I looked at Njoroge who sat opposite me at
the table, he smiled and showed me a raised thumb – meaning that things
were also good to him. After supper we all stood up, and said a prayer.
Brother Tom then announced that we were all going to watch a video
since it was on Sunday night. In the video room, I moved to where
Njoroge, my long time friend was seated.
"I like the place, do you?" I asked him in whispers "I do", he said, but
added quickly "glue, do you have any with you?"
"No" I dropped the bottle at the gate out of fear" I whispered back.
"I will die", he said.
"Why? Because of glue?" I enquired.
"Yes", he replied touching his head "I am even feeling headache".
"They will give you medicine for that" I answered back.
He kept quiet, his attention was diverted to the video. It was showing
the "Gods must be crazy," a film we were fond of watching at
twilight hotel in River road during our days on the streets.
That night, I could hardly sleep. I was lying in bed on a new mattress,
clean sheets with Njoroge on the upper deck. It was unbelievable. I
missed the cold nights at the remand home and in the streets, and
people here were so orderly.
The following morning, we woke up early at 7.00 a.m. washed
ourselves and rushed to the church for morning mass. We then came
for breakfast and we were taken to class at 8.00 a.m., by Brother Tom.
The old boys went to another class with Joshua.
Brother Tom was pleased to hear that all of us, Njoroge, Osore, Sheyi
and myself had been to school and knew basic literacy and numeracy.
He was especially pleased with Osore, who could speak good English
and had been our teacher on the streets whenever we felt bored. He
promised us that if we behaved well and showed interest in class
work, he would promote us to go to school straight away.
After three months, we had caught up with the centre's rules without
many hitches. We had resolved to be good boys and be taken out to
another school where we hoped to meet other boys who could
perhaps have some glue. The four of us had lost hope especially one
Saturday afternoon, when Njoroge had sneaked in some glue after
going to shop with Brother Tom in Buruburu. The other boys had
suspected, checked Njoroge's box when he went to the toilet and
reported to Brother Tom who confiscated the "cargo".
A week before being taken to school, Miss Anjela came to the drop-in
centre several times. Sometimes, she listened to us converse freely,
came to class and asked us questions and shared meals with us.
Nobody among us knew her intentions until I overhead her
conversing with Joshua.
"Madam, your boys are so good, take them to Ruai," he had started.
"Is it?" she enquired,
"Yes, surprising, the four who came recently are very outstanding.
They have virtually reformed and are good in class too" he explained.
"What about the seven?" she asked referring to the old boys we had
found there.
"Slow learners you could take Eliya, Mutua and Kipsang: The rest we
shall recommend later", Joshua replied.
"Let us go to my office," he had told her.
That evening, Brother Tom, Joshua and Father Kaiser came to the
dining hall where Brother Tom informed us that the seven of us
would be leaving the centre for Ruai where we would be enrolled in a
formal school. He also announced that the following day, Miss Anjela
would bring more boys to the centre to replace us.
We were so overjoyed that we conversed in whispers until late in the
night. At midmorning the following day, the Brother's vehicle came
for us. We waved goodbye to Father Kaiser, Joshua, our four
remaining colleagues and five others who had just arrived with Miss
Anjela as the vehicle turned at the gate and sped off.
We reached Ruai later that evening. I was eleven years then. We
found so many boys, more than two hundred aged between six and
seventeen years. I later learnt that most of them came from children's
remand homes scattered all over Nairobi.
Only Njoroge and I were taken to stay in St. Kizito dormitory. The
rest joined the other three dormitories. Brother Ayier, the Head of the
institution met us the following morning and interviewed us for
admission to our respective classes. I passed the interview for class
two and got admission. Osore went to class four while Njoroge and
the rest joined class one.
A new life had begun, a life of class work, school rules, prayers in the
morning, evening, before and after meals, on Saturdays, Sundays;
virtually at all times. School ran from Monday to Friday, 8.00 a.m. –
5.00 p.m. Saturday was a washing and recreation day. Sunday
morning was prayer time. The afternoon was for recreation.
The centre was complete with recreational facilities. There was video,
television and balls for games. Our parents and guardians who had
been re-united with us through the efforts of social workers visited us
during the first Saturday of the month or during parents' meetings.
After only three weeks, I had made enough friends. I re-acquainted
with "Yellowman" a former street boy who had been the "base
commander" of the Hilton Hotel area and its surroundings during our
street life days. He had transformed from "Yellowman" to sanitary
prefect whose dream now was to join Strarehe Boys' Centre after
primary education and later on, hoped to study law at the university.
I met the smartest boy in the school, Wariua, by then nicknamed
"minister" although he aspired to become a Diplomat. He was lucky
to join a secondary school in Nyeri. I also met Mulandi and
Kamusidi, the "pastors" who were aspiring to become priests;
Kisanjana the entertainer; Kirefu, the athlete; Kabaloko, the aspiring
chauffeur and "teacher" Abel. Everybody here had a dream career and
our teachers encouraged us to strive towards achieving them.
Everybody loved us right from "ndahwo" the watchman, Mkulima
the groundsman, to "mathe" the cook. I liked my class teacher,
madam Bino. She was so kind and bought us bananas. She also taught
us very well and she made me the class prefect after one term.
We all loved sister Rachael, the school nurse. She hated anybody who
tried to hurt the boys. She led us in the liturgy group and I joined the
prayer group on her insistence. We prayed for so many people, the
donors, brothers, tribal clash victims and our school and parents.
I liked games. I joined the Junior football team in class four and
became the captain, rising until I became the school head boy in
standard eight. We defeated the so called "normal" neighbouring
schools in many games and sports, music and drama. At one time,
Mohi, "the Poet," was declared the best in the country.
Father Joseph brought us meat quite often. Other neighbours brought
us clothes, fruits, books and many other things. I wondered why
everybody loved us here and hated us so much on the streets. Kenya
Airways always gave us old uniforms every year. As soon as any
supplies arrived, Brother Chris, the boarding master would ring the bell
and we would all line up to share whatever had been brought for us.
We learnt so many songs and poems to sing and recite to our visitors
whenever they came. All these helped in making us better people.
I did my Kenya certificate of primary education last year and being
the bright boy that I have always been, I hope to be the best pupil and
merit a scholarship for admission to an American school which one of
our donors has promised. My school-mate Otieno, went last year after
scoring five hundred and eighty marks in the Kenya certificate of
primary education.
If I go to America, I hope to contact some of the tourist friends I met
at Ruai. I especially look forward to meeting Miss Hicks, the high
school teacher in Minnesota. I pray that I will be able to study Law so
that I can come back home and relentlessly fight for the rights of the
street children and other marginalised groups.