Mukiri and Gitaigwa_Anthony Kabari Njororge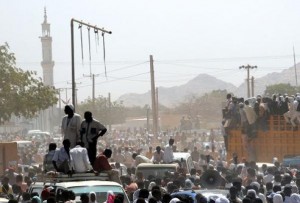 _Africa Teller 2003.
Once upon a time in the village of Kanugu, in the lower lands of Rift
valley, located in the country of Kenya, there hailed a family of four.
They were father, mother and two boys by the names Muhoru,
Mukama, Mukiri and Gitaigwa respectively. Gitaigwa was older than
Mukiri. They lived with their mother because the father was working
in a town far from home. He used to visit them after every end of
month. They were living in a very happy life although their mother
was very strict such that they could only do something after seeking
permission. The boys were mature enough to attend school which was
three and a half kilometres away from home. They used to wake up
very early in the morning, get prepared and join their neighbouring
schoolmates to the school. For the whole of the day, their mother was
busy at home attending farm operations and making sure there was
enough food for the day. She also made sure that the cows and the
goats were taken care of by the herdsman and they were taken to the
water source, which was two kilometres away. In case she happened
to visit the boys' father, she could make sure everything was in order
such that they were able to sustain themselves in her absence. They
could also cook, wash their clothes and wake up as early as 3:00 a.m.
to milk and deliver milk to the collection centre. It was one kilometre
from home. Times were hard because most of the times they were
relying on what income received from milk sales. Sometimes the
boys could be sent home by their schools headmaster for lack of
school fees whenever their father failed to send some. The only
difficult task they faced was to fetch water very far from home every
evening after school. A task that made them very tired at the end of
the day. The only way to refresh themselves was to play "hide and
seek" game late in the evening. Studying for them was difficult
because of tiredness so almost everything they were taught in school
the previous day, was past tense. This was their daily routine from the
time they open the school until they close. The time they enjoyed a
lot although there was a lot of work to be done in the farm including
weeding. The rest of the time they spent on playing with other
children and luckily visiting their father at his working place. That
was the only golden opportunity they had in their lifetime and of
which they had enough time to study.
One day in the morning, Mukama decided to visit her husband
Muhoru, at his place of work for one week and leave the boys alone
for they were used to. She called the elder boy Gitaigwa and told him.
"I want you to listen carefully. Because nowadays you have become a
crook, I want to leave you with enough precautions and warning such
that in case you go astray, or something goes wrong, then you'll be
the one to answer. Because you are the eldest". "Mum I will do
everything okay. Where are you going?" the boy asked. She did not
answer and instead she went on talking to him. "You know last time I
left you, there was not enough money to spend. That is why I took
only one day. Today I am going to leave you with enough such that
even if I take one week you'll be okay". The boy smiled and nodded.
He did not brother to ask the same question for the second time. He
had already clicked into his mind where she was going according to
her statement. It is from this time joy flashed into Gitaigwa's heart
knowing that freedom had started and thus they could have money to
visit one of the nearest shopping centre where their interest of doing
so had been barred earlier by their mother. She started preparing
herself as she allocates duties to the two boys. Lucky enough, it was
on a weekend and the boys were not attending school. So they had
all the time to complete the day's work, wash their cloths and
prepare food.
Mukama did not need the boys to see her off. So she left to board a
bus at the terminus without knowing that the boys were following her
by the bush. They were to make sure she had boarded and left. This is
where their wrong journey started. Gitaigwa broke with joy and told
his brother, Mukiri, "Now you know what? We are free to do
everything we desired because there is money, food and we don't
need all these money for food. Instead, we are going to invite our
friends and buy bread, soft drinks and then we proceed to the
shopping centre to buy them and for us some sweets for our
enjoyment. What do you think?" "Yes! That's quite a brighter idea.
We have stayed for so long without enjoyment". Mukiri said. "But…
wait a minute. What if we finish the money before our mum is back?"
He asked. "Aaaaaa! No worry. This is a lot of money. I will show you
how to spend it". Gitaigwa replied. They went back home to prepare.
After arriving home, they had a hard time to prepare for everything
including fetching water, cutting firewood and washing their cloths.
This was to avoid any interference with their next day's plan.
"Gitaigwa" as the name suggests, means somebody who does not
abide to whatever thing he's asked to do. This is so in their "Kikuyu"
tribe and "Mukiri" means a humble person. This is the time the two
boys signified their characters. The next morning came and they took
shower, breakfast and left without informing their Herdsman. This
being on a Sunday, there was no great bother because there was food
in the kitchen and he was aware Mukami was not around so he could
feed himself. In the other case, the boys did not want to disclose of
their where about to avoid being reported to their mother on her
comeback. When they arrived at the bus stop, Gitaigwa
enthusiastically shrugged Mukiri's shoulders and told him with a lot
of excitement, "You know what, I have a very fine idea of what we
can do to make our day more successful, and save the money we're
having", he continued. "We shall go to Mr. Mwega's home and lie we
have been sent by our mum to borrow his bicycle to fetch water. And
you are the one to go and tell him so". Mukiri did not refuse. Instead
he replied, "That is a very clever idea. But don't you think he will
resist?" "No. He will definitely give because she trusts our mum so
much. You don't have to worry. Go with your full confidence and he
will". Gitaigwa answered. He did not hesitate and lucky enough,
Mwega had planned to relax the whole day at home so he kindly gave
out the bicycle but warned him to take great care because he uses it to
get to work daily. Mukiri left with great joy and when he arrived
where Gitaigwa was, they both could not hind their joy to each other.
Gitaigwa rode the bicycle as Mukiri held firmly on the back seat and
they fled towards the shopping centre. Before they arrived, they met
with one of their schoolmates who was their neighbour. His name was
"Makena". They stopped. He excitedly greeted them and asked, "You
mean your father has bought you a bicycle?" Gitaigwa without giving
a pause, he answered. "Of course yes. Now we'll riding to school but
no more walking". Makena could not believe his eyes and instead he
vowed to approach his father and ask for the same. He waved them
off and continued with their journey.
After arriving at the shopping centre, they luckily met one of
Gitaigwa's classmates who had visited his uncle that morning. He
told them to leave the bicycle at his uncle's place so that they can be
able to go round the town freely. Gitaigwa welcomed the offer and
they did so. The boy accompanied them to their mission which
happened to be very interesting because he knew most of the places
than the two boys. He had been visiting several times. They started
with children's attraction centre which had a famous acrobat,
children's play games and many other artistic displays. This was their
most interesting place where they took most of their time. For the rest
of the day, they went to hotels and shops to window shop and buy
their favourites still with the company of their friend. The evening
came and they went back to pick the bicycle so as to arrive home in
good time. This was Mukiri's turn to ride because Gitaigwa was tired.
They set off although he was not very accurate and sometime he
could sway besides the road. But Gitaigwa kept on spiriting him to
ride. It was unfortunate as Mukiri lost control and they fell besides
the road where he got minor injuries and without realizing, the
bicycle pump dropped off at the same place. Gitaigwa never noticed
and they left it there. After arriving home, they hurriedly took the
bicycle back to Mr. Mwega but did not find him. His wife received it.
Mwega had left that evening to attend a church seminar organized by
his church welfare and it was to take four days. After walking back
home, they continued with their normal activities. This was to prepare
for school the next morning. They could not cook any food because
they had already taken enough while on their trip. The morning came
and they woke up as early as usual. Gitaigwa seemed to be very tired.
Even to take a shower was so a bother to him. Mukiri prepared
himself very fast, polished his shoes and put on his school uniform.
By that time, Gitaigwa was still dragging in doing his activities and
when Mukiri insisted they would be late, he said. "What you shall do,
go and tell our class teacher that mum went to visit our sick dad and I
have to remain home to take care of cattle and poultry". He
continued, "Also let him know this will continue until she is back".
Mukiri did so and the teacher agreed.
Days went one by one and the fifth one came. Fortunately or not,
their mother happened to arrive late in the evening unexpectedly.
It was weeding time so she decided to return house and prepare for
the period.
When she arrived home, the boys innocently greeted her but she
replied with a stern face. Gitaigwa read her face and told Mukiri that
things were not good. After some few minutes, she called them as if
she had sad news she wanted to pass over. She started.
"Now you have to get your punishment because you thought I was
going to stay, where else I was never". The boys looked to each
other's face with fear. She continued: "I am going to the shop and
when I am back you have to tell me who sent you to borrow. Mr.
Mwega's bicycle… and you produce his pump. Otherwise you are
going to face the music". She left with a lot of bitterness and the boys
sensed danger.
This was no more time for Gitaigwa to sit and think of the bicycle. He
called Mukiri and told him. "Let us pack our cloths and leave to hide at
the nearby bush because things are not good". He continued. She might
kill us today. Let us hurry". They packed very fast and made sure they
put on more than two sets of cloths so as to beat the cold at night.
In the return of their mother, the home was very quiet, no light, and
the gates were open. She became nervous and started calling the boys
by their names. "Gitaigwa!", "Mukiri…!" No one was answering. She
automatically knew that the have left to hide for fear to be canned.
Without much bother, she went on with her activities knowing that
the boys could come back. Because they were sleeping in a separate
house, she thought they could sleep there at night of which they
never, even by midnight.
At around 4:00 a.m., the boys came and slowly slept in their house
because of itching cold they had all night. They had planned the wake
at dawn and leave for their day at their family friend's home, which
was ten kilometres away from their home.
The boys had a deep sleep and time came when their mum was
walking-up to milk and deliver to the collection centre.
She thought of checking whether the boys were in their house.
And that was it. Se locked from outside without the boys noticing.
She milked and got ready to deliver. Before she left, she climbed
the nearby trees and cut three big sticks to cane the boys.
Fortunately for Mukiri, he heard the noise and awakened
Gitaigwa. They sensed that they were under "fire" only to notice
the door was locked from outside. Mukami left to deliver milk
having known she has canning sticks ready to punish the boys in
her return.
The boys used their knowledge to get out of the house and Gitaigwa
banged the mesh-wire placed on the window and they got their way
out.
After their mother returned, with great confidence, opened the house
holding the sticks and told the boys to open from inside. Woo! There
was nobody. She went round the house only to realize they had
sneaked through the window.
From that day the boys went to their destination which took them
one day. They lied to their family friends that their mother told
them to visit the place because they were sent off their school to
collect fees, which was not available. Although they knew it was
hard for such an occurrence, they welcomed the boys for one
week. When their father came home and learnt they were at the
place, he arranged for their return and they were never punished.
Their father advised their mum to counsel the boys rather than
punishing them. They later lived in a happy life and went back to
school.