Innocent Love, Omnia Ghassan Abu-Swiereh – Gaza(Palestine)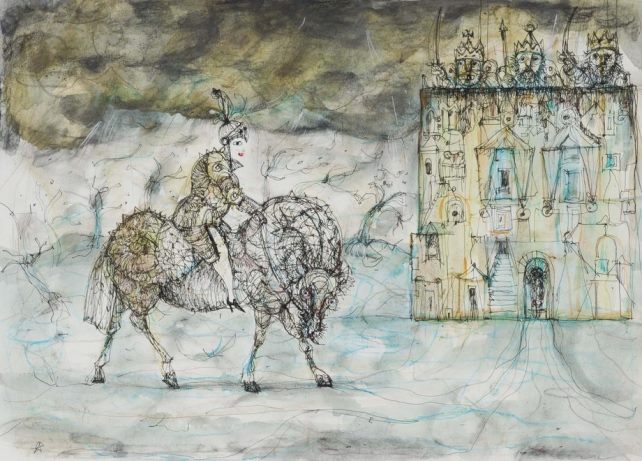 Winner Energheia Palestine Prize 2017
Dear Soha,
I, now, appreciate the great work you've done to medicate Bara'aa. How patiently you dealt with her stubbornness and sadness. You're an amazing psychiatrist. I know you've always been curious about her whole story. The detailed story she never told anyone but me. I am not bragging or showing off, but she's literally not a talkative person. So, in this e-mail I will reveal the vagueness of her story as thanks to what you've done.
I met Bara'aa in the second year of college. We were both studying Arabic education. We became friends from the first time we met. She is a bright and delightful person. Her smile doesn't leave her face. She blushes easily too. Anyone who meets her would fall in love with her, just like I did. Her name is Bara'aa (=innocence) and she is innocent. She is aptly named.
Once when I was leaving the university and looking for a taxi, she popped out from a taxi and called me. She was living at Al Nusirat camp like me. While the car was moving, a song came on the radio.
She asked me, "Do you know this song Layla?"
"No," I said.
With a low sad weeping voice she said, "This song means a lot to me." She lowered her head and continued, "It reminds of someone so dear to my heart."
I replied wonderingly, "Oh!!"
And that's when she told me her story. It's like she wanted to talk about her misery desperately, but she didn't want anyone to pity her. Maybe she wouldn't tell me if the song didn't play.
She said, "In the second year of high school, my cousin proposed to me. He was a graduate. Sometimes, I used to sneak out of the house just to meet him." She smiled like every little thing they did was passing in front of her eyes. She took a deep breath and continued, "He used to visit us every day. When he comes inside our house, the first thing he does is searching for me without paying attention to the rest of my family members."
I felt love and passion in her speech. Everyone in their families loved their pure passionate love and no one disagreed or objected. I, too, fell for it just from hearing about it. I saw yearn in her eyes. A mysterious sad yearn.
"Suddenly, he stopped visiting. I didn't even know why. I kept calling him, and every time he says that he's tired and he can't leave the bed," she said it with a cracking voice, "Three months passed without seeing him. So, my father went to visit him. My father never expected what he would see. We never thought that he would be really sick. He was thin and pale like a corpse. Since my father is an expert doctor, he knew from the first glance what Hosam was suffering from."
Her tears started to fill her big eyes, so I said, "Don't talk about it if it burdens you."
She shook her head and kept on talking, "He was transformed to a hospital in Jerusalem for more appropriate medication. He even skipped his final high school year. They diagnosed him with Myeloid Leukemia."
She was trying so hard to hide her tears, but I noticed them. I heard her trembling voice. I felt her pain as if it was mine. I did.
"He stayed in Jerusalem for six months. I packed my stuff to follow him, but Eid Al-Adha was soon to come, so his father brought him back in order to spend Eid with us," she gulped. "One day after Eid, he was really tired. He told his father that he's going to sleep and asked him… not to… wake him… up." Silence. She got silenced. I understood her silence and tears filled my eyes. She was crying and forcing herself to utter "And… and… He never woke up again." She covered her eyes with her hands and cried silently.
The rain was falling profusely on that cold winter day just like her tears. I looked at her. I never believed that this bright innocent girl would have been through this kind of experiences. How much sadness she carries in her heart. She's so brave to bear her sadness and hide it behind her innocent smile. Like a slaughtered bird dancing of grief. I never thought or imagined that I would see her this way.
After calming down, she continued hesitatingly, "On that day I was coming back from a private lesson. I was preparing for the final exams of the last year of high school. I got that call. I fainted in the middle of the street."
I, the listener, was in a complete sadness. How about her who has been through such experience. Maybe, at that time, it has been almost two years since his death, but she still loves him as if it was the day before. He died, but her love for him never will.
She told me once that her father wanted her to major in medicine, but she rejected. I think maybe she's afraid if she met people with such cases would weaken her broken heart more.
I got married then got pregnant, but she was still single. She was ready to live the rest of her life remembering their memories.
"Everything reminds me of him. The streets we walked together. The places we visited together. He's everywhere. His perfume. His smell. His touch. His smile. His dazzling eyes when they're looking at mine. How are you expecting me to move on? I can't move on. I… JUST… CAN'T," stridently and thickly her answer came out of her mouth when I was arguing with her.
We argued and fought a lot. It's not about the idea of marriage, but I really wanted her to move on. So, I advised her to visit you. I told you that she can't move on because of her fiancé's death, which was the only thing you knew. It was so hard to convince her to do so. She went to you eventually and with your amazing skills and abilities you convinced her after a lot of hard effort.
Thank you, Soha. I appreciate what you've done from the bottom of my heart. She does too. She told me to invite you to her wedding party. She was so shy to talk to you after what you've faced while trying to help her. Also, she asked me to tell you her complete story. So, I did.
Come Soha. She's waiting on pins and needles to see you again. Come Soha. I miss you.
Yours sincerely,
Layla